World's First Proper Flying Car Makes Debut Flight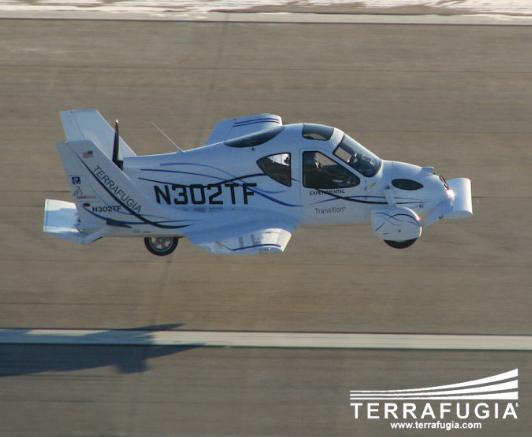 The Terrafugia Transition "roadable aircraft" - the nearest thing to a flying car yet built - has made its first test flight.
Terrafugia says that the flight took place on March 5, and will hold a media briefing at 1430 UK time. Meanwhile pictures of the flight are available on the company's website.
Company test pilot Phil Meteer, a retired air force colonel, is quoted by AVWeb as saying: "The first flight was remarkably unremarkable. I've flown several thousand hours in everything from Piper Cubs to F-16s, and the Transition flew like a really nice airplane."
In aircraft terms, the Transition is a light two-seater aircraft intended to fit within the new US "light sport" category. A light-sport pilot's licence is easier and cheaper to acquire than a normal private pilot's ticket, and medical red tape is reduced. Cruise airspeed of 115 knots is expected, range of 450 miles and "highway speed" on the ground.
The Transition has most of the weaknesses of light aircraft, in that it can't easily be flown through poor weather, bad visibility, or restricted airspace (as found above cities, for instance). Users needing to get through such obstacles will need to land at a suitable strip nearby, just as a normal private pilot in a Piper Tomahawk might.
World's First Proper Flying Car Makes Debut Flight
Reviewed by
Redaksi
on
2:02 PM
Rating: